"Here's How Darrell's Effective, Simple To Follow,
Personalized Approach To Building Your Dream Pond

Will Intensify The Value And Beauty of Your Home,

Draw Families Together In Nature And Help With

Reducing Every Day Stress."
While Experiencing A Complete Sense of Self Accomplishment

Without Breaking The Bank."
A quick story about Building a Farm Pond. This dude Darrell always wanted a pond. Why? He thought it would be cool to go to the farm pond, do some fishing and bring in the catch for supper or jump in for a swim.
After the Pond Building it became much, much more than a just swimming and fishing hole.... We'll get to that Shortly!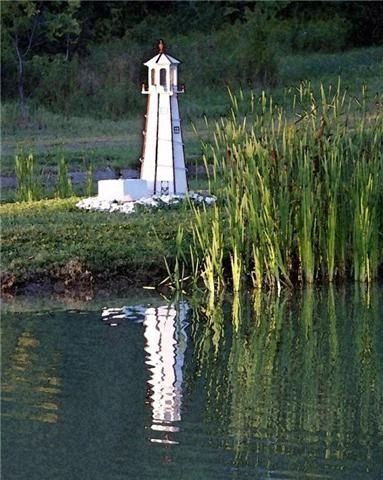 Darrell has been wrestling with his better half for years to build a pond, heck he already had the equipment. The biggest stumbling block was she didn't want to have a green slime pond like so many others have. Then after a week at the new and favorite vacation spot, was the win over for the pond and Darrell.

After vacation, he asked again..... "Yes just so it doesn't turn green, like some other farm ponds". Whahoo Darrell got to work. He had already done the research, learned from folks who have built their own and excavating companies who builds pond for a living. Cool, Already have a dozer, backhoe and check to see if permits are required for Building a Farm Pond.

Remember the swimming / fishing hole and the pond being much much more....?

Here's what happened once the pond was finished. That following spring the ice melted away and life began at the pond. Darrell took a walk daily around the pond, there was an attraction and couldn't put his finger on it. Until one day he saw a pattern, tough day at work? stressed? needed to relax? It then all became clear, he built a little oasis, a place of peace, tranquility and inviting nature do her thing.

The pond is now the focal point of the property. When family and friends stop by, this is the place to chill and relax! Adding Koi fish has brought vibrant colors and now more pets as the Koi have names now. Just another plus for Darrell's better half ;-),Yep there's game fish too!

Check this out! Darrell is giving away his Free "Definitive Guide" to ponds, pond building, accessories, equipment and much, much more... (He should be charging for his Guide but Darrell wants You to enjoy life, family and friends at Your Own Private Oasis. Join in as he shares his experiences in building, and be on your way to peace and tranquility after Building a Farm Pond! Simply fill in the blanks and click the Grab It Now! button.